Ingredients for 8 people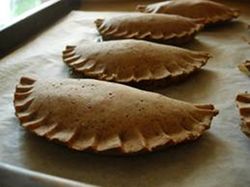 For the pastry:
1000 grams of flour
100 grams of lard
Salt
Half tablespoon of sugar
3 eggs
A glass of sparkling wine or white wine
For the filling:
About 700 grams of chickpeas
100 grams of bitter cocoa
Liquid chocolate
A pinch of cinnamon powdered
Half glass of liquor
Coffe
200 grams of sugar
Lard/oil for frying
Instructions
Boil and grind chickpeas, add cinnamon, liquor, coffee, sugar, chocolate and cocoa as you want.
Apart prepare a dough with flour, lard, sugar, eggs and white or sparkling wine and leave it rest for about an hour; when the rest time is ended, spread the pastry and make some ravioli and then seal up the edges using the tip of fork teeth.
Finally fry panzerotti in oil.
Serve hot and crispy.