Aurora Sanseverino
by Vincenzo Falasca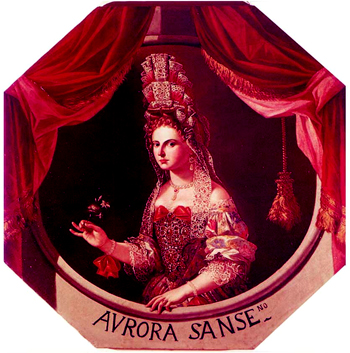 Aurora Sanseverino is remembered as one of the most important Lucanian woman poet.
Daughter of the Prince of Bisignano and Count of Saponaria Charles Marie Sanseverino and of the Sicilian Maria Fardella, Countess of Paceco, was born in Saponaria the 28th April 1669.
At the young age of thirteen, forced by his father, on 13th April 1682 she got married to Jerome Acquaviva, Count of Conversano.
After few years, now widow, came back to Saponaria, then she made many trips with the father, to Palermo and Naples.
Remarried with Niccolò Gaetani of Aragon, Prince of Laurenzana and Piedimonte, she settled in Naples.
In Naples'environment of that time, in the house of Donna Aurora (now in Bisignano Street n°3, near to the seafront of Saint Lucia), it was formed a real academy, where joined the finest artists and poets of the city, becoming the greater cultural center of the Kingdom of Naples. She was a real patron and commissioned the music of her plays to the greatest musicians of the time: Handel, Cimarosa, Perti, etc.
She enrolled at Academy of Arcadia in Rome and became known under the pseudonym of Lucinda Coritesia.
Since fifteen years old, she composed several sonnets and songs and a beautiful eclogue sent to Giovanni Mario Crescimbeni, keeper of the Academy of Arcadia. Aurora was such a wonderful woman "with curly hair, big eyes, charming smile", but also athletic and hunter, because she used to go hunting wild boar with the spear riding horses.
She died in Piedimonte (nowadays Matese) the 2nd July 1726, at the age of fifty-seven.
Raimondo di Sangro, Prince of Sansevero, the most famous alchemist of the eighteen century and commissioner of the famed Cristo velato by Giuseppe Sammartino (in the Cappella Sansevero in Naples, nowadays in De Santis street), was her nephew.
Of her poetic production there is very little, just three sonnets and some excerpts of musical plays, the latter at the Musician Museum S. Petronius in Bologna. Strongly imbued with the scent of Arcadia literary, the poetry of Aurora Sanseverino was affected, however, by the literary fashions of the time, and "played the habits of a wealthy and comfortable society".
The art of Aurora Sanseverino can be appreciated reading the first of the three sonnets saved:
"Sfoga pur contro me, Cielo adirato
Quanto più fai tuo aspro furore
Spegner favilla al mio cocente ardore
Puoi ben torni, ch'io possa in su l'amato
Volto nutrir quest'affannato cuore
Ma sveller non puoi già dal manco lato
Il dolce stral con cui ferimmi Amore
Siami pur forte rea ogn'or più infesta
Viva pur l'alma in pianto ed in cordoglio
Che il mio fermo desir ciò non arresta
Io son di vera fede immobil scoglio
Cui di continuo il vento, e 'l mar tempesta
Ma non si frange al lor feroce orgoglio."