Places of worship in rural areas
by Vincenzo Falasca
Sanctuary Madonna of Monserrato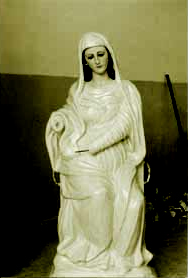 Located on the mount Castello (nowadays simply "The Mount") about 6 Km from the city center.
The name Castello let Caputi assume that on this mount there was a "Pelasgic site equal to Vetere in Moliterno and Mount Castelli in Tramutola, buried the surround or served to factories".
The Sanctuary was built in 1582, when was established the cult of Spanish Madonna by archpriest Ettore Giliberti. Remarkable is the Spanish congregation that during the celebrations accompanies the Madonna simulacrum beating warlike drums. Its uniform is green-gold.
Sanctuary Madonna of Grumentino (or "Salus Informorum")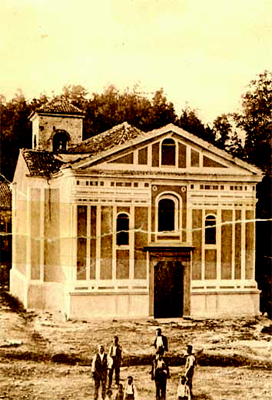 Very ancient church probably built at the beginning of seventh century A.C. in Grumentino district (old Casal Pedone), when in the surrounding area began the dispersion of Grumentum people. In the early 1739 its cult revived for having healed Grumentum people from a pleurisy illness that claimed many victims.
Its worship is celebrated on Sunday after Easter.
The building was restored in 1932 and recently in the years 2008-2009.
Basilica of St. Marcus
The ruins of this ancient church are located near the area pertinent to the National Archaeological Museum of Agri Valley, once called "Arches district" for the survival of vestiges of the ancient Roman aqueduct.
It dates back to an era between the late fourth and the early third  century B.C.
In 1982 the inhabitants of this place found a votive ditch with hundreds of potteries and other objects of Hellenistic period.
St. Mary of Graces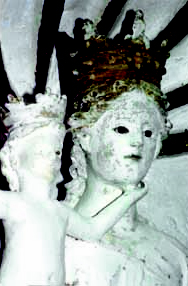 Small church located on the left bank of Sciaura river, under the street  S.S. 103.
As the story goes, the church was built by a citizen from Armento, miraculously cured around 1400 by the water of a source streaming nearby.
St. Laverio
Sacred complex built in honor of the Christian protomartyr at the confluence of the rivers Agri and Sciaura, under the Judaea leap (Auz' ra Sciurìa), shortly after 326 A.C. It was the Christianity cradle in Lucania.
St. Mary of Abundance
Rock ruined chapel, located on the east back of Saponara hill, between the street  S.S. 103 and the first hairpin turn of the provincial road. Built in 1600 by the Notary Giovan Donato Danio.
It still retains traces of many wall paintings, with images of Bishops and Saints.